______________
Students React:
Syracuse University Reacts to Obama Winning:
_____________
Wed Nov 12th:
Las Vegas Soon to have no Paramedics!
AMR to Strike in Las Vegas
By J.Son of NakedBoyNews.com – Giving people the NAKED truth!
AMR the city of Las Vegas' largest ambulance company is set to strike if their demands are not met. And what is AMR doing about it? Nothing… they are shutting their doors to union talks and have banned union reps from the premises.
"It is simple" says one AMR paramedic who spoke under condition of anonymity "we want AMR to recognize us!" he went on to say "we are underpaid and overworked, not to mention put out on the street in unaccredited ambulances."
After doing my research, the heart of the issue is the union employees of AMR feel neglected by a money hungry company. From being told to transport patients that don't need it, so they can make a $1000 minimum fee on a transport, to hiding old ambulances when CAS (the agency that regulates ambulances) comes to do its inspections to covering up for a county agency who doesn't pull it's weight yet gets kick backs.
Let's start at the transport of patients. Each patient has the right to be transported to the hospital if requested; however as a citizen we also rely on the EMT's expertise to let us know if we really need to go to the ER for further check up. The paramedics I spoke with told me that they are trained to lie to patients and get them to take the $1000 ride, across the street in some cases, to the hospital.
The union employees of AMR on a whole are upset with a "broken system" and with the threat of a strike they hope to help make the system better. A system where county paramedics tell patients that they don't transport to the hospital, yet in actuality they do and for free, they just don't want to be bothered. And when they don't want to be bothered they send them to AMR where instead of free, the have to pay. A system in which city paramedics (not county) can choose which patients they transport, a system flawed when you find out certain hospitals have a kick back program set up for transports. Some of the city paramedics are receiving a $50 kick back per transport on top of the $80,000 to $100,000 annual salary. While newly hired AMR paramedic intermediates are making in the $11 an hour range, with forced overtime after an already long 12 hour shift.
Now how did the people of Las Vegas get involved in this mess? The city of Las Vegas has a franchise agreement with AMR and Medic West (AMR's sister company) to take care of all transports in the city. How did this agreement come about? Simple: the fire department was tired of transporting people who called 911 for a stubbed toe or an ingrown toenail. These are examples of how 911 has truly become the United States form of socialized healthcare. After years of being over burdened by fire calls and 911 calls, the city franchised the EMT/paramedic services to private business. I wonder if the city will start paying more attention to who it signs up to contract critical services like emergency medical help to in the future. I don't know who to blame… AMR, the union employees, or the city for not paying attention. But all I know is that if a major accident or a natural disaster happens and AMR is on strike and the city is left helpless – I hope everyone at city hall and AMR is out of a job!
(Due to the sensitive nature of this story, NBN understands that parties involved may have a biased opinion of the facts. NBN is reporting what has been told to it from paramedic sources.)
_____________
Friday Nov 7th:
Is this 1950?? Prop 8:
________________
Thursday Nov 6th:
Faces of America:
Naked Boy News will be doing a series of "Faces of America!" collage series. If you would like to be a part of this series please send your name and photo to
BoyNews@live.com
_____________
Wed Oct 30th:
2008 Election "Bandwagon"
_________________
Tues Oct 21st:
Bette Endorses Obama
(This is a two part video - NOTE: The intro to both videos is the same, however Bette's segment is different.)
_________
From CNN:
Joe Gets me on National TV:
_____________
Wed Oct 15th:
"Joe Plumber" Gets my Vote:
Naked Boy Politics - This week:
___________
Fri Oct 10th:
Where are Palin's Ethics???
_________
From CNN:
J.Son on "News to Me!" and CNN "iReport Today":
____________
Wed Oct 8th:
Debate #2 ScoreCard: "My Friends!"
__________
Fri Oct 3rd:
Naked Boy News on CNN:
Watch out for me at about minute 3:00 into the video. Thanks CNN for sharing my video!
____________
Wed Oct 1st:
Sarah Palin Should Go Home:
_______________
Thurs Sept 26th:
Bail Out The American People
If There is a Debate...
____________
Sun Sept 7th:
The Video that got on CNN:
_____________
Wed Sept 3rd:
Bristol Palin a Pregnant Whore:
_____________
Wed Aug 27th:
What Hillary Really Wanted to Say:
______________
Fri August 22nd:
Special Report: Politics Week in Review:
________________
Wed August 20th:
How They Tell Us Their Running Mates!
_______________
Wed August 13th:
John Edwards Ur A Whore...
____________
Wed Aug 6th:
No Show Today:
The host of Naked Boy News, J.Son is feeling under the weather today and is stuck in bed. Sorry for no new video today.
Enjoy this funny comedy clip from J.Son until next time:
_____________
Wed July 30th:
A Great Duck Campaign Ad:
NakedBoyNews.com presents the 2008 Great Duck Debates! A series of presidential debate paraodies.
I hope you like them! This one is a parody ad for Barack Obama.... in the series his name is YoMoma. McCain's name in the series is CoCaine... hehe :)
_____________
Mon July 28th:
The Great Duck Debates: Episode #1
_____________
Wed July 23rd:
Where has my Hillary Gone?
_____________
Tues July 15th:
I Love the New Yorker!
(Image from: New Yorker Magazine)
I Love New York... I do but I love the New Yorker even more! This week the New Yorker magazine told it how they see it and they totally lived life "naked" for a moment.
As you can see from the current cover of the magazine... they were not being politically correct. I LOVE IT!
Now people are calling this cover racist and wrong and horrible... the list goes on. But deep down inside we all know we have had the same thought. It took the New Yorker to throw it out there for us all to recognize the elephant hiding in the room. Bravo to the magazines editors for living and truely being "Naked"
____________
Sat July 12th:
McCain or Obama? Naked Boy on the Street!
____________
Wed July 9th:
Obama is Sorry... yes he is!
__________
Fri July 4th:
Happy 4th of July!
The day America declared its independence! Get your flags out and wave them!
____________
Wed July 2nd:
Could You Pass and Become a Citizen?
4th of July is just two days away and flags are flying, people are getting even more patriotic. BBQs are being planned, pools are being cleaned for people to swim... but can most Americans pass the newest citizenship test? NO!
Take the test below - Watch the video - I will ask the questions as the appear on the test. This is not multiple choice... so good luck.
If you were an immigrant today and wanted citizenship would you pass or be sent back to your country?
________________
Sun June 29th:
Its 2008 - Time to Stop the Hate!
This is my shortest video ever... but has the most important message I have ever said:
_______________
Thurs June 26th:
What Happened to the Good Days?
What happened to the good old days? The days of $2.00/gallon gas, great stocks and dividends, family vacations that were affordable...
Today the DOW closed at it's second lowest close for he year, off 350 points from trading yesterday.
There is all this talk that our vote for the next President will help change this economy slump we are having... that they can and will make America profitable again... Can Obama or McCain really do anything to help??
Or do we Americans just have to stop spending outside of our means and get back to reality... will that help change things around...
Your Thoughts:
What are your thoughts? Can the next President change our economy for the better? Or do we as citizens have to help? Email your replies to
BoyNews@live.com
I will post the best replies here!
_____________
Sat June 21st:
McCain Closes In:
______________
Tues June 17th:
Happy BDay Dad!
Happy Birthday to my Dad and more on the Naked Bike Day!
_____________
Mon June 16th:
Naked Bike Riding for Political Cause:
Yesterday between 60 to 70 bike riders took to the streets of Boulder Colorado. Their backs were painted with the phrase "less gas - more Ass!" in what was the city's 5th Annual Naked Bike Ride.
The ride is a protest against our dependency on oil. This year with gas prices so high it seems like an even better idea!
I need to get my self a bike and do Naked Boy News on a bike! :)
_____________
Sat June 14th:
Wave Ur Flag It's Flag Day!
In honor of flag day I'm posting my video titled "Wave Ur Flag!"
____________
Fri June 13th:
My Video Message about Tim Russert:
Tim Russert Dead at Age 58
Breaking News: Earlier today NBC News host of "Meet the Press" Tim Russert died. Russert was on the set of "Meet the Press" taping voice over segments for this Sunday's show when he collapsed. He was rushed to the Sibley Memorial Hospital in DC where he was pronounced dead.
In my opinion Tim Russert was one of the best personalities in network news and I have for a long time looked up to him. My thoughts and prayers go out to his family and all those at NBC News.
______________
Wed June 11th:
Obama Loses His Johnson:
____________
Sat June 7th:
Clinton Concedes Bid for President:
______________
Thurs June 5th:
Clinton Popular Vs. Obama Delegates
My question to all democrats: How can you be upset that Al Gore won the Popular vote yet Bush won the electorate if you won't stand up and say Hillary Clinton won the Popular vote!
____________
Wed June 4th:
Obama Fundraiser Found Guilty of Corruption!
Breaking News: (2:24pm) A federal jury has found prominent Barack Obama fund-raiser Tony Rezko guilty of corruption on 16 counts. In 2005 Obama and Rezko were involved in a real estate deal that was touched on briefly during the trial.
My Opinion: Is this the kind of man we want as our President? If this is baseball he is on strike 2. First he had a racist and hatefilled pastor. Now he has a friend and prominent fundraiser who he does business dealings with being convicted of corruption. How can a man talk about "change" yet be so full of "old washington" dirty politics? Think about this before you jump on the Obama bandwagon...
____________
Tue June 3rd:
Obama Becomes Nominee
JUST IN: With the last of the primaries complete and the super-delegates falling into place Hillary Clinton didn't need to give a speech to concede the nomination, Obama won the delegates and thats that.
History was going to be made either way, a women or a black man and Obama is the one to set history.
Now the question is who will be his VP? Will it be Hillary?
Hillary to Announce She is Out!
UPDATE: (11:34AM) Is Hillary out or isn't she? Her campaign just released a statement that Clinton will not end her campaign tonight.
Neither candidate will have enough delegates at the end of the day to get the nomination. Obama is 35 short of the nomination and only 31 total delegates are up for grabs in the 2 remaining primaries.
BREAKING NEWS (8:20am): This is HOT off the wires: Hillary Clinton to announce tonight that she is stepping aside and saying that Obama has enough delegates to be the Democratic nominee for President.
In this historis race the person with the most popular votes in the end did not get the most delegates and has decided to call it quits.
Top aides say Clinton will make the announcement sometime tonight after the last of the primary votes have been counted.
____________
Sun June 1st:
Hillary WINS Puerto Rico!
This just in Hillary Clinton wins the Puerto Rico primary by wide margin. With this win she still lacks enough delegates to make a dent in Obama's lead.
Yesterday the DNC decided to seat the Florida and Michigan delegates but each will only have a half vote. This decision pushed Obama to within 66 delegates to win the nomination.
--------------------------------
Did you join the Naked Boy News Letter Club?
Click Here!
--------------------------------
____________
Sat May 31st:
The DNC: Will They Get it Right This Time?
The DNC is meeting in Washington, DC today to discuss possible solutions to the Michigan and Florida on-going delegate problem. The states didn't follow the directive of the party in the begining so what should happen now?
The Florida problem is a bit more complicated then it appears on the surface. The state government in Florida chose the primary date there. The state government that is controlled by the republicans... hmmm... to me it seems like they intentionally picked a date in violation of the DNC rules so that they could turn off Dem voters and win the state in the fall. (Just my opinion)
In Michigan it was the state party leaders who wanted to have their primary earlier so to draw more attention to their states needs. And now look where they are - the national attention is on them.
I feel the states votes need to count but as it has been said "you have to play by the rules." All I can hope is that the DNC will reach a fair compromise that will not disenfranchise American voters.
______________
Thurs May 29th:
Wave Ur Rainbow Flag!
Today is a day to celebrate if you are a gay couple and want to get married. The California government issued a directive early today stating that the state would start issuing same sex marriage license on June 17th. Just an hour later in New York, Gov David Paterson instructed state agencies to start recognizing same sex marriages from other states. Paterson directed state agencies to give him a full report by June 30 on what needs to be done to make sure couples are given equal healthcare, adoption rights and taxing. Some agecies including those that provide healthcare would told to immediately change policy and to recognize same sex marriages.
This is a huge win in the fight for equality for gay and lesbians in the United States. There is sure to be a fight ahead of this decision with state law makers, but it is a sign that the times are changing when the two biggest and most influential states in the Union make big strides in the name of equality.
- J.Son
_____________
Mon May 26th:
Happy Memorial Day!
Thank you to all the Military Men and Women:
____________
Sun May 25th:
This Man as President???
Barack Obama as our President? I don't think so. American mainstream media keeps getting it wrong! At times it feels like the media intentionally sways the public (the democratic primary voters in particular) to back one candidate that they know in the fall will not win the general election. This time around it is Obama.
I can feel the hate mail already on its way to me (my email is
boynews@live.com
). This is an editorial piece, my opinion on the current political scene in the US.
Obama is not qualified to be our president. He has one of the worst voting records in the senate and keeps missing key votes. He is very secretive about his hard core beliefs and values. All he talks about is change. Change can be great and it can be bad. Mr Obama give us some plan - some meat of this change you talk of.
If someone is going to lower taxes then in the same breath cut highway improvement projects - I'd say that's a bad change. So on the surface any one can give a fancy speech and promise change - but if you scratch below the surface is the change really good or really bad? Just something to think about before you jump on a bandwagon of someone you really know nothing about!
:) J.Son
_____________
Wed May 21st:
Hillary Clinton Wins KY!:
My Video Well Wishes for Ted Kenendy:
_____________
Tues May 20th:
Ted has Cancer!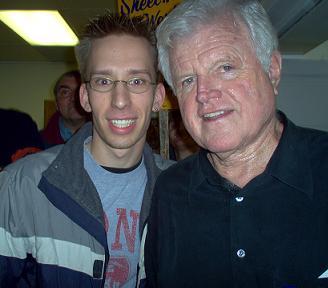 J.Son (not so naked ) with Ted Kennedy
Today it was annouced that American political icon Ted Kennedy has brain cancer. It's a shock to the political world and to most Americans. The Kennedy family is the "American Family"
I wish him the very best for a full recovery. My grandmother on my Mom's side passed away from complications to brain cancer so I know how tough it is. So go on and fight Mr Kennedy!
_____________
Mon May 20th:
What's Up With John McCain? :