Man Vs Woman Review Series
Maryellen Hooper

Las Vegas is falling in love with Maryellen Hooper because she makes it hard not to laugh. With a laid back, conversational style, she touches on the daily truths that make us all laugh at ourselves. Her material is fresh, and her continuous story telling keeps you laughing for so long you start to notice.

She interacted with the crowd and had the entire room under her spell. Standing in the spotlight with her self describe second hand skirt and cowboy boots she is the "com" queen.

At this particular event, a benefit for breast cancer recovery, Maryellen Hooper kept the ladies laughing with her comic relief on marriage and motherhood. Never has the story of a colicky baby been so
hilarious. I'd take my friends, my family, or a date!
Overall Show Review:
3 1/2 Laughs!

3 1/2 Laughs
Blue Man Group

What should I say about the Blue man Group? Not really a comedy event, they did some amazing tricks, including bringing an airplane out on stage. The music was great, but there was too little of it. I wanted music during the entire show. I liked the optical illusion that made the live band members look like puppets. I thought that was really cool. I almost wanted them to actually be puppets until i realized that i thought one of them was hot. I was a little too far away to be sure about it but that only added to the excitement really.

Again, not the funniest show in Vegas, but worth seeing, especially if you are taking children.
Overall Blue Man Group Review:
2 Laughs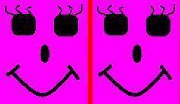 2 Laughs
ADAM SANK

Hilarious, and still fresh on the comedy scene. He talked about his parents the way most of us wish we had the guts to. And his revelations about coming out are funny even to a straight female. And too bad he's gay, ladies, because he certainly is adorable.

I would take anyone to an Adam Sank show that is comfortable with their sexuality. And I am looking forward to seeing more of his work as he becomes a more seasoned veteran.
Overall Adam Sank Review:
3 1/2 Laughs

3 1/2 Laughs
LA CAGE

There is a reason Frank Marino is one of the most well know celebs in Vegas: he's hilarious. His Joan Rivers is dead on, and at points funnier than she's ever been. I love the humor, and the infinite costume changes, and the fact that they show you a picture of Frank in
his regular clothes at the beginning of the show.

The singing impersonations are amazing, and not comical, more genius. My favorite is Britney Spears; she looks beautiful and Derrick (SPELLING?) Barry can really dance. Honestly, I didn't like the fat-lady-dancing humor but am willing to overlook it for the enjoyment the entire show brings. Take your friends, and family, and your date if you hope he'll dress in drag for you one day!
Overall Show Review:
4 Laughs!

4 Laughs!