Man Vs. Woman Review Series
George Wallace Overall Show Rating:

George Wallace keeps you laughing!
George Wallace's show "I Be Thinkin" is one of the funniest shows I've seen in a long time. He kept the audience and myself laughing for about 2 hours. He has a skill for reading people and it shows in the way he connects his jokes to the audience.
I was laughing so hard I had tears in my eyes and pains in my sides.
This is a must see show when you come to Vegas!
Who I'd take to see this show:
a date

my parents

business clients

friends

family
See George Wallace's show at the Flamingo Hotel & Casino
Blue Man Group Overall Show Rating: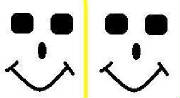 2 1/2 Laughs
Blue Man Group is a very family oriented show. The show is innovative and fun. However it is laking as far as comedy goes. You'll laugh through out the show and there is a loose comic base to the show but not a side hurting laugh.
The Blue Man Group is a show for those who love music and cutting edge theatre. Their on stage antics are fun to watch and keep you guessing what they'll do next.
If you want to see a great theatre show see Blue Man, if you want to laugh, go see a stand up comic.
Who I'd take to see this show:
Children

Teens

Theatre Fans

Music Fans
Blue Man Group is currently playing in the US in NY, Chicago, Boston and Las Vegas.
Adam Sank Overal Show Rating:

3 3/4 Laughs
Adam Sank is a new up and comer out of NYC. He just recently performed at Caroline's in NY. He is a very fresh face in comedy and has a charm about him that makes everyone in the room pay attention.
He connects well with the audience and knows how to get the room to laugh with him.
He is on my list of comics to watch out for!
Who I'd take to see Adam:
Friends

Co-workers

Family

A date
You can see Adam in NYC at Therapy Bar.