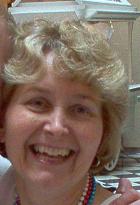 Nancy Chapman
Nancy Chapman Directed the 2004 Got Theater? Project Children's Theatre Festival. She has worked with Manlius Pebble Hill school in Manlius, NY and has directed productions for summer youth theatre classes.
The 2004 Children's Theatre Festival was Nancy's debut directorial role with the Got Theater? Project
Cheryl Dinant
Sponsorship Co-ordinator. Cheryl co-ordinates sponsorhips for the Got Theater? Project Family Festival held in Syracuse. Her hard work and dedication in securing sponsorhips helps to raise funds for worthwhile charities!
Our Promotion Team!
Our promotion team members are located in
Portland-OR, Chicago-IL, Las Vegas-NV, New York-NY, Miami-FL, Syracuse-NY, Los Angeles-CA, Canada and Denmark.
Thanks to the team for helping spread the word on our projects. If you would like to become a member of our promotion team contact us!
Our Writing Staff!
We Care About Our Community!
The following have benefited from our events: